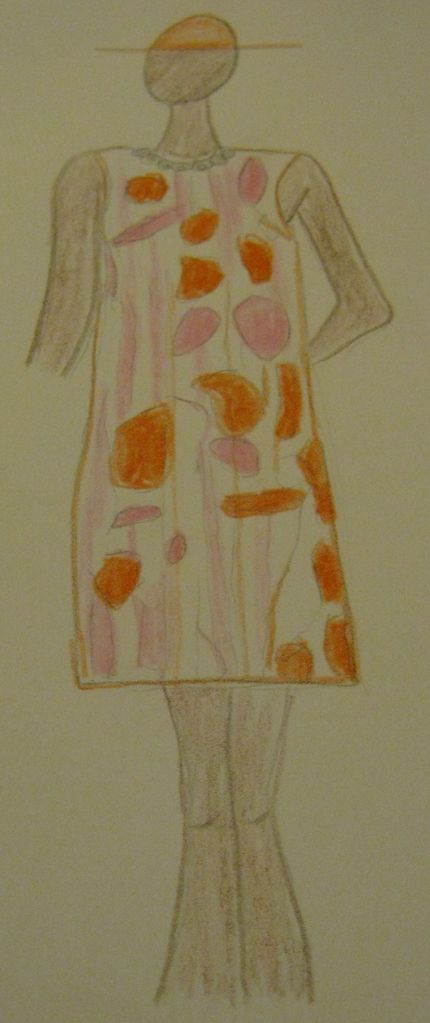 Illustration of Victoria Moore in sleeveless pink and orange Giraffeeey print shift dress. Illustration drawn by Victoria Moore
   From the moment I saw the ad for Lilly Pulitzer for Target in Vogue magazine I knew I had to go down to my local Target and score some Lilly.Bright, vibrant and as fun as I remembered from my childhood in the 1960's and 1970's, when I originally fell in love with her, the thing I most enjoyed was being able to purchase her merchandise at an affordable price.
   Previously, when Prabal Gurung designed dresses for Target, I went to their Sale department and bought three of them. Recently I also added a Marimekko for Target Kukkatori floral tunic and a set of decorative blocks and Adam Lippes' wonderful red and beige plaid poncho, blue and white checked short-sleeved blouse and knit men's cap to my collection, when he was their collaborative designer.
   Despite Gurung, Marimekko and Lippes, my Lilly experience became a part of modern retail lore that I never thought I'd live to see. The fact that it included practically all the seven deadly sins and good old-fashioned generosity and sympathy made it profoundly memorable.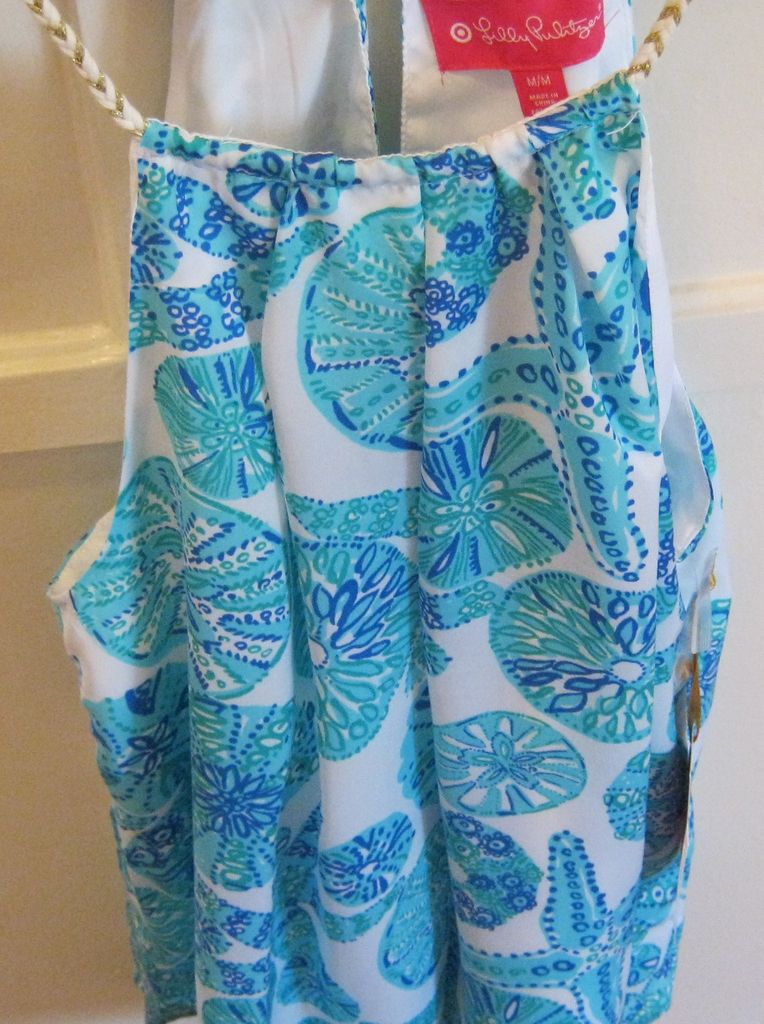 Lilly Pulitzer for Target halter top in Sea Urchin for You print
My Shopping Wish List
   Advertised as an event that you had to RSVP to online, I prepared my shopping wish list a couple of days before and wrote down everything I wanted to buy before xeroxing out the pictures and adding short notes and prices, that would help me purchase my selections once I got to Target. The pieces I wanted most were: 
A Satin Flounce Dress in Sea Urchin for You ($38)
A Floral button-down shirt in Nosey Posey ($24)
A Pair of pink and orange print palazzos in Giraffeeey ($28)
After preparing my list I carefully chose a comfortable, but stylish outfit to wear to the event, a gray DKNY tie-front cardie over a gray short-sleeved top and black and white checked leggings.

Victoria Moore in the halter top and a blue A-line denim skirt. Illustration drawn by Victoria Moore
The Store:
   Even though I live close to my local Target, and it only takes one short bus ride to get there, I'd rarely visited before my Lilly journey. Departing around 10:00 a.m., when I assumed the store opened for business, I arrived around 10:30 a.m. anticipating a swanky fashion shin dig knee deep in Lilly clad guests and racks of freshly unpacked merchandise. When I went to the Women's Department to inquire about it I was told the only thing left, after the store opened at 8:00 a.m., was a pink and white bikini hanging in the dressing room area.
   Saddened and frustrated I complained to the clerk and a couple of customers, waiting by the dressing rooms, about how fast everything went. Whether they were saints in disguise or just compassionate fellow shoppers, a mother and daughter I befriended during my tirade, graciously let me have a white top accented with colorful embroidery, an orange boho top, two print makeup bags and a travel case in the blue, pink and white My Fans print. 
   "You look just like one of the Lilly Pulitzer models she used in Florida," the mother told me. "They were all tall and thin like you."
    After the pair gave me my new swag they advised me to search the store for discarded Lilly's because that's where they'd found most of their stuff. I then looked throughout the entire store twice, without success, so I headed to the check-out counter with my items, and another chapter for my retail story of woe. When it was my turn to pay, I repeated my misadventure to the cashier, who said, "I almost forgot, I have this stuff back here," and showed me a sleeveless pink and orange Giraffeeey print shift dress, a blue and white Sea Urchin for You print halter top, a gold seahorse necklace, a set of dishes and a lamp. Another clerk then brought over a print wristlet purse she thought I might like. Feeling blessed and immensely lucky with my effortless hunt I decided to buy the dress, halter top, and seahorse necklace, and leave the rest for another Lilly fan.
Lilly Pulitzer for Target makeup and travel bags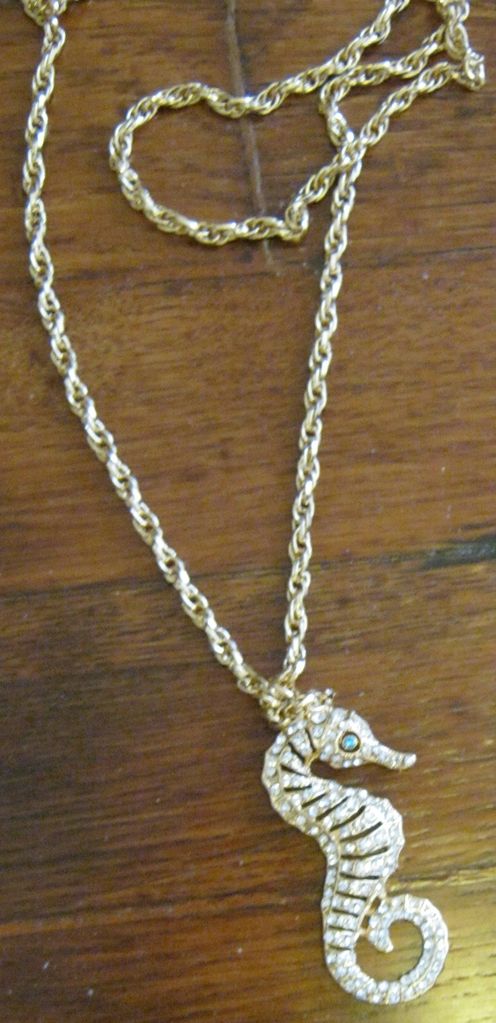 Lilly Pulitzer for Target Seahorse Necklace
The Real World of Lilly
   Unfortunately all of the consumers looking for Lilly's weren't as magnanimous as these wonderful ladies because some used this choice retail opportunity to profit further by re-selling their items for exorbitant prices on ebay. While talking to the mother and daughter in the dressing room area, a customer who later joined us said, "I overheard another customer saying I'm going to re-sell my dress on ebay for $100.00."
   I didn't want to believe it of my fellow budget fashionistas, but when I got home and logged onto ebay, I was confronted with the ugly truth of Lilly Pulitzer for Target merchandise listed for twice of what they cost at Target initially. My dream of seeing the same type of  beautiful, accessible and stylish separates I remembered from the 1960's to the 1980's offered to every woman at an affordable price could've been dashed if I hadn't met so many fabulous people who made my dream come true that day. I hope this is a pattern that will be repeated often on my future shopping trips.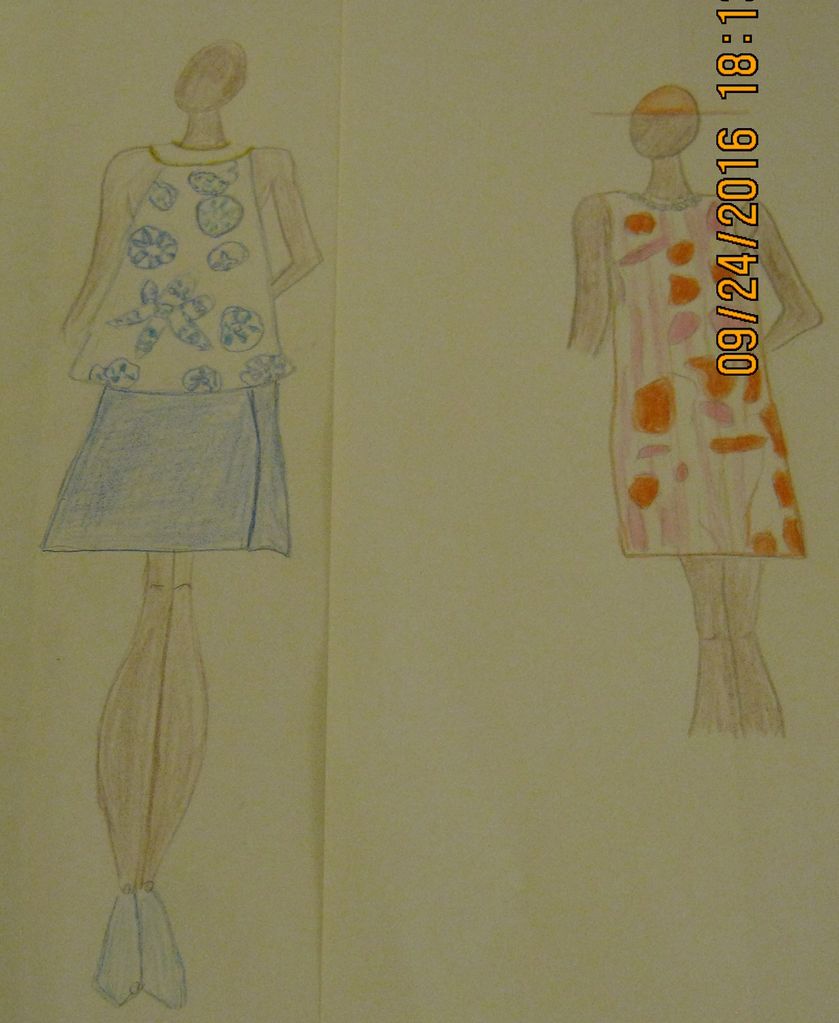 Together the colors, shapes and silhouettes make a lovely view